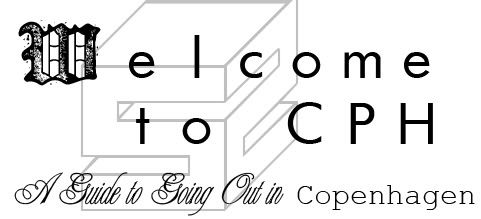 You know, Copenhagen and I have a special and loving relationship, albeit dysfunctional. We've fallen in love, fallen out of love, played the blame game, ended our relationships on Facebook, and now we are both at a happy medium where we can enjoy each others company in a civil and respectful manner. All I need to do is test our new relationship with a little visit. You know, to make sure we're both doing okay.
In January 2008, I packed by bags and headed for Copenhagen for 6 months of exchange at University of Copenhagen. What was a terrifying experience at first turned into something delightful, eye-opening and just plain "hygge" (the Danish concept/way of life for "coziness"). Although it was stressful at times dealing with "Danish ways", I look back now and realize that my life wouldn't be the same if I never lived there.
No, this is not turning into a sob story. Many friends were made, and many beers were consumed as several bicycles roamed the streets like it was no big deal. This is normal to the Danes; environmentalism, sustainability, high taxes and tall Carlsberg's. In lieu of COP 15 and to anyone who is interested in visiting my beloved little city in the near future, I present you with my guide to night life in Copenhagen. Note: I haven't been to Copenhagen since 2008 so I'm not exactly "up to date". Feel free to criticize this post.
A guide by neighbourhoods and by streets
Nørrebro
The Nørrebro neighbourhood houses the long street that is Nørrebrogade. I lived off this street, quite north past another long road called Jagtvej in a little dormitory/kollegiet. Nørrebro was the neighbourhood I biked through every day to get right into the centre of town (25 minutes by bike, 50 minutes walking). This is where you see daily Danish commuter life, not to mention all the delicious shwarma and falafel joints that dot the street.
What's good in this area?
Be sure to check out the streets
Elmegade
and
Fælledvej
; they intersect with Nørrebrogade. These are some of my favourite street to bike down, plus there are loads of ethnic shops and shoe shops. It's a little like Vesterbro (you'll see) with lots of Middle Eastern foods/cool shops/awesome cafes happening.
RUST
. Proper DJ nights, great bands, and just all around easy access and good cheer. As a non-Dane, is it wrong for me to say that I love this place? I discovered Kleerup, Egyptian Lover and Choir of Young Believers here.
Blågårdsgade Jazz Cafe
. Cheap drinks and relaxed times with live jazz playing several nights a week for free. Just one of those little heartwarming discoveries found floating off from the main streets. There are other crafty and thrifty to be found in this area. Beware, thrifting Copenhagen is stupidly expensive compared to North America.
Stengade 30
. They have reggae nights every Sunday. A lot of African - especially Ghanaian - expats come here (all 15 of them). Fun under the fake Jamaican sun.
Vesterbrogade
Welcome to another street with tons of ethnic restaurants, colourful galleries, hot clothing shops, and cafes. Just off of Vesterbrogade is the "up-and-coming" meat-packaging district on a street called
Istegade
. This is also the "red light" district (aka: a handful of sex shops and maybe two hookers). Vesterbrogade is a very long street well worth the bike trot.
If you are in the area, find
Lakagehuset
, it has some of the best pastries, breads and muffins the city has to offer. It's more or less across Hard Rock Cafe. When you go, please fed-ex me some baked goods because I am drooling as I type this. There's also one right across Christianshavn metro station where you will need to get off, if you want to see Christiania.
Vestergade
Not to be confused with the drawn out Vesterbrogade, this is yet another street that houses tiny vintage shops and cafes. It's filled with surprises and hidden urban gems.
Downtown: Various streets! Time for Google Maps, no?
Anything is close to you on a bike when you're in baby Copenhagen!
FISK
(Sankt Peders Stræde 1). It's one of those hybrid vintage clothing shops/cafes/bars all in one. Copenhagen meets Berlin.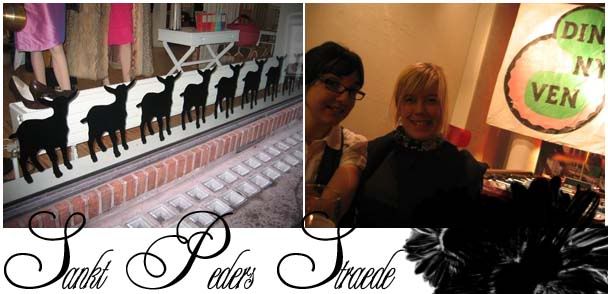 Salonen
(Sankt Peders Stræde 20) for a pretty decently priced sandwich and local ecological beer, with heaps of flyers on the walls.
Din Nye Ven
(Sankt Peders Stræde 34). A cool place to read/drink in the daytime with live music on most nights. It gets packed and is awesome (minus the smoking - damn Danes, update your indoor smoking laws). This is one of my favourite places ever. I absolutely love this street. Din Nye Ven (which means Your New Friend) is crucial in the night or day.
Living Room
(Larsbjørnsstræde 17). Living Room sells fair trade/organic coffees and tees. They also have a really nice cozy basement, and really cute postcards lying around. I was sold the instant I popped inside. Living Room defines hygge one step at a time. Check out the neighbouring Studiestræde if you like to look at cute stuff like I do.
Bankeråt
(Ahlefeldtsgade 29). A cafe/bar that has human-sized taxidermied people/animals all around. I believe they have international newspapers there for your reading pleasure, too. I love this place and I wish I took pictures of its interiors. But taxidermied stuff + beer? Kind of a big deal.
Culture Box
(Kronprinsessegade 54). Probably one of the hippest places for house, electro, and minimalist German techno. But I wonder if this venue is "sooo 2008" or what. Maybe there are other venues like this that I've never been to. Regardless, they host events with DJs such as
Ellen Allien
. FYI: The Cheap Monday store of Copenhagen is at Kronprinsensgade 7.
Vega
(Enghavevej 40). Not exactly my favourite place, but this is a venue to check out while planning your visit to Copenhagen because there are always decent touring bands playing here. This is where I met Jens Lekman for the *second* time. Be weary of their house nights. Although good DJs play here sometimes, it's easy to run into creepy men trying to hit on young women. Fortunately, the place is open til 5am and then at that point, you can just bike away from the creepers.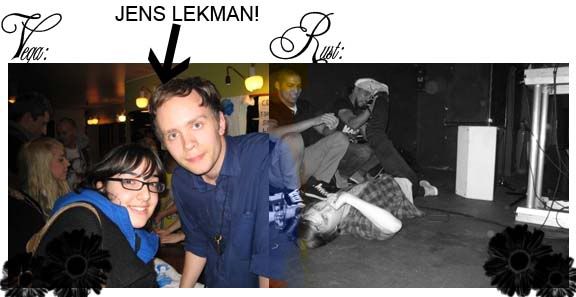 The Meatpacking District (Kødbyen)
Remember when I mentioned Istegade? Well, now I am going to talk about it some more. Istegade is one of the major arteries of
Kødbyen
, translating to "meat city". Istegade is populated with boutiques, bars, and other strange discoveries. This is the first street in the world where pornography became legal; you'll find sex shops and up-and-coming cafes/shops to go to. As for the hookers, I never saw more than four at a time. The area is generally safe. For more info,
here is a nice little Wallpaper* review of the hood
.
Kødbyen is primarily around the street of Halmtorvet. It is parallel to Istegade. There are some bars and clubs that opened up recently, such as
Jolene
. It's not advertised as such, but I'm pretty sure it's an Icelandic lesbian bar with impressive lighting and decor. Kødbyen is a cool place to walk around in the daytime because it's very raw (and I'm not talking about meat), however, it's also on the verge of gentrification.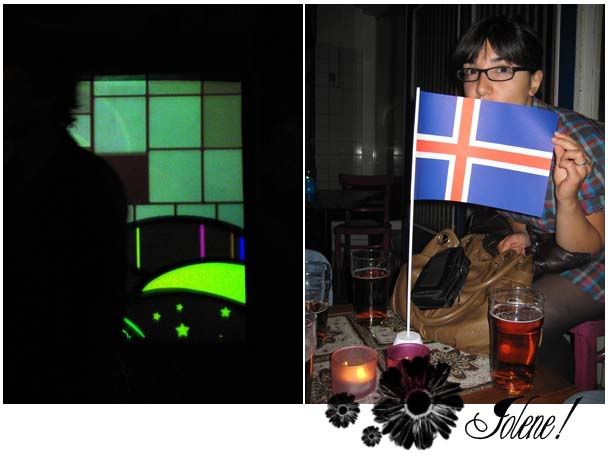 Råhuset
. Yeah, it means "Raw House". Råhuset lies off of Istegade and is an ex-meat factory. Strange, artsy, and Scandinavian. Actually, this might be on
Halmtorvej
. This area in general is carnivorous. Vegans: proceed with caution.
Karriere
(Flæsketorvet 57). Ok, so this is another major street in Meat City. Karriere is a play-on-yuppies; literally, the name of the bar/restaurant means Career. It's pricey and yuppified to a point where I'm not sure if it's ironic anymore. But take a walk inside. The design and decor is, yet again, fantastically original.
Okay, so I think I've exhausted my Copenhagen resources. There are some places that I just don't remember the names and locations of, but overall, the main goods of my Copen-half-year have been revealed. Tourist or local, feel free to contribute to the list.