In my last and final weeks of summer, I visited Thailand. Despite the absolutely ridiculous things that occurred while trying to get OUT of Thailand (Let's just say I spent 24 hours stranded in an airport), I figured I'd give a brief overview of my experiences in the one and only: Bangkok.

Without getting into too much detail, all you need to know is that Bangkok is a really ugly city minus the stunningly detailed wats, temples, palaces, and ancient cultural archi-facts (artifacts + architecture) spread throughout the city. Bangkok is a concrete jungle where you feel like you're always walking under a highway, at least in the Silom and Sukhumvit business districts. If you're not walking under sky trains rails and elevated walkways, then you're walking into over-age men with under-age Thai women.

Accommodation
My first night arriving in Bangkok was spent at a hotel called Take a Nap. Stunned by the unique designs of the rooms on Hostelworld, I booked a twin ensuite immediately. At $25 a night, it's like a cheap Asian version of Denmark's Hotel Fox. Take a Nap was clean, secure, and design-conscious, which meant that several young Japanese and Korean 20somethings were staying here on a shopping vacation. Although the staff were questionable in their mundane recommendations for nearby restaurants and spas, I generally appreciated housing myself here for three nights.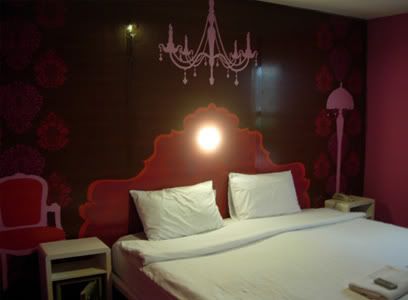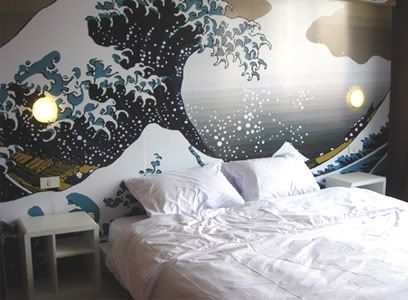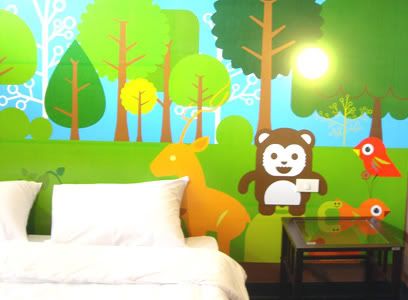 The eye-catchiness of Take a Nap hotel in Silom. I stayed in the purple/pink room.
Shopping
Bangkok's middle name is shopping. It's actually kind of revolting how many markets exist in the city alone. The malls are outrageous; if you can't survive the Eaton's Centre, then I'm not sure how you'd deal with the
palaces
malls such as Siam Paragon and MBK. My one piece of advice is this: ignore all shopping malls, and head to Chatuchak market at the very end of the metroline. Bangkok's metro is advanced and makes Toronto's TTC look like a beaten down homeless shelter (isn't it?). Chatuchak market only takes place on weekends with over
10,000
stalls. I know. It doesn't make sense to me either. You can find the latest avant-garde Asian and Westernized fashion here three to five times less than you would in North America or Europe, making this market a true diamond in the rough of Bangkok.

Eating
Honestly, I had no bad experiences with Thai food; it is one of my top five favourite cuisines of the world. Every restaurant I visited in Silom was exceptional. When traveling to any developing country, it is crucial to be skeptical of sanitary conditions. Consider Dukarol, the traveler's diarrhea medicine. According to our trustworthy receptionists at
Take a Nap
, the best area to eat in Silom was
Tasty Thai
which is a chain (for god's sake!) with stellar food. If you're expecting atmosphere, traditional music, Thai silks and candle lit dinner, leave it at the door, because this place is the high quality McDonald's of Thai food.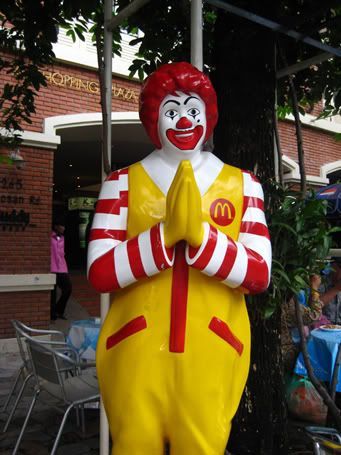 Overall, it was "nice" to visit Bangkok to kill my curiosity. A much anticipated trip to Thailand was in order after living in Vietnam for three months, but at the end of it all, Bangkok killed my buzz. If I wasn't so crazy about Chatuchak market and Bangkok Fashion Week, I'm not sure I'd return.