San Art Gallery is a new gallery space in the Binh Thanh district of Ho Chi Minh City, Vietnam, run by Viet Kieu's (also known as Vietnamese Overseas) from America. Not only is it an independent, non-profit, artist-run exhibition space, but it's also a reading room and a host of lecture and international exchange programs.

Artists are slowly emerging and thriving in Ho Chi Minh City along with the indelicate, coarse skyscrapers that are creeping up on the country's largest city, and San Art is a perfect player in the changing landscape of Vietnam. The fact that San Art is funded by the Vietnam Foundation for the Arts says something about the improving image of Vietnam. Now, Vietnam is following the same steps as its South East Asian brothers and sisters in Bangkok, Singapore and Kuala Lumpur. Slowly, but surely.

I discovered San Art in mid-July. The first exhibition I attended was called Blink which ran from June 12 to July 24. Blink illustrates the rise of creative individuals in Ho Chi Minh City and Hanoi. Nine young contemporary Vietnamese artists graced the gallery walls impressively. What wasn't so impressive was the "reading room", which consisted of a wooden chair in the corner of the gallery. A comfy couch might need to provide itself useful in such a budding gallery. But anyways, the magazine and book collection was quite impressive, from back issues of ArtForum and Frieze to many contemporary Asian and Australian mags. Not to mention, the hoard of used international development books and UN reports.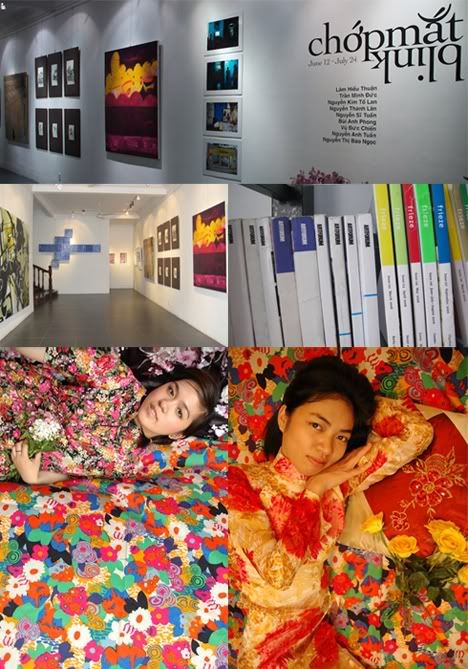 The latest exhibition is entitled
Everything Illuminated
which runs from August 6 to September 24. Six selected artists respond to works of three senior photographers: Chu Chi Thanh, Doan Cong Tinh and Vo Anh Khanh. Not only are these men successful and recognized photographers, but they were also soldiers during the Vietnam War. Amongst illustrating the horrors of the war, they display the backbone and endurance of the people during this time period.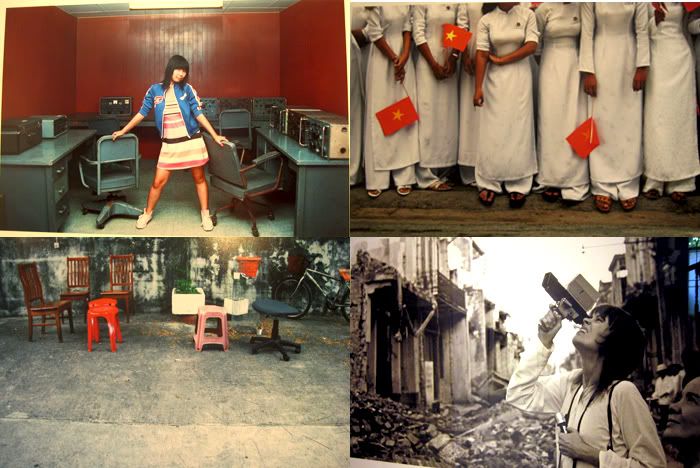 Left to Right, top to bottom: Hung Tran POV 2009, Kevin German Untitled, Dao Nguyen Thach Thao Untitled 2009, Cu Chi Thanh Jane Fonda Visiting Nam Dinh City 1972.
San Art is truly a unique space in Ho Chi Minh City. The gallery is close in proximity to district 1 but it takes a skilled Xe Om (motorbike) driver to navigate through the broken, half-constructed roads and alleyways in which San Art is placed. With a little time, I can see the neighbourhood of San Art really growing in the next few years, much like the rest of Vietnam. What I feel about that development is maybe controversial, considering I cannot walk anywhere without hearing a drilling, a buzzing, or a hammering in the city.