Breaking down the concept of "smart girl, stupid interests"
"Burner Magazine gives you the power to make decisions," says editor Sarah Miniaci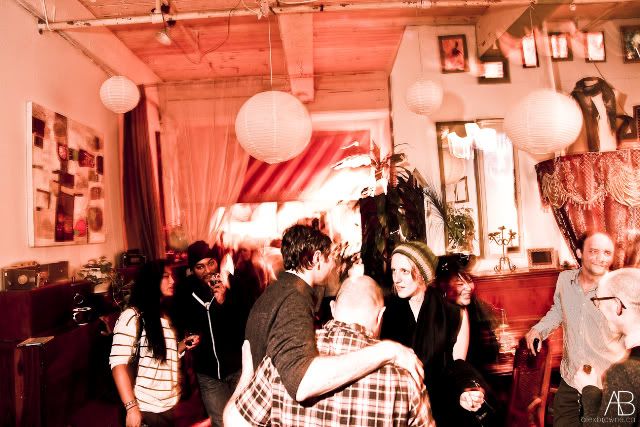 Photographer: Alexander Browne
Sarah Miniaci doesn't believe in connections. She is the only person to ever tell me this when I asked how she landed an interview with the Dandy Warhols in Burner Magazine.
Burner Magazine
, an online publication powered by
Issuu
, is run by both Miniaci and editor-in-crime Leah Stephenson. On a chilly Tuesday night on December 8th, the girls held their second issue launch at the bohemian Loft 404 on Adelaide Street West.
So far, the magazine has featured the musically-inclined Warhols, Governor-General award-winning multimedia artist Istvan Kantor, internationally renowned artist Sonja Ahlers, and Canada's only literary erotica magazine founder Jeremy Hanson-Finger. It has also received contributions from former
Rolling Stones
writer Rob Spiegel. How did such a small, self-funded magazine become so successful in just two issues?
Miniaci called up the Warhols' public relations company to request an interview with persistence. "Sometimes you get turned down, sometimes you don't," she says. Next thing you know, she's interviewing Yoko Ono of the same PR Company for Burner Mag's third issue. The magazine itself received over 2,000 submissions internationally through word of mouth and online calls for submissions.
Aside from the well-known names, Burner Mag has a unique mandate. "There weren't [any publications] I wanted to submit my work to, so I started my own," Miniaci says. She describes her readers and contributors as "anybody of a certain level intellectually who doesn't feel the need to be trapped by it". The Burner Babe reads Cosmo and Kierkegaard; she listens to Lil Wayne and Drake but watches Jean-Luc Godard films; she loves Tyra Banks and Charles Bukowski equally. For this, Burner Mag is a shameless and confident publication full of individuals keeping it real, not trying to be anything else but themselves.
The magazine will continue to grow. Expect to see beautiful full-page ads in future publications, and in print format. If the magazine is not beautiful, including the advertisements, "you end up hating it," Miniaci declares. The aesthetics are inspired by DIY, zine culture, and
Dazed and Confused Magazine
; Miniaci wants the magazine to feel like a personal artefact.
"[Burner Mag] has a private and sentimental vision that is not always visible in magazines publicly anymore," she says. "Magazine layouts have become boring. Burner Mag is art that's not boring." After being showered in cupcakes, wine, and an attractive, well-dressed guest list, I headed out of the loft with a sense of self-assurance. The down-to-earth crowd had warmed my soul, and the chat had given me some sort of power to make decisions and to take control of my passions, just as Miniaci hopes her readers will do.
"If you're passionate about something, if you love something, you will do whatever it takes".
visit burnermag.com.