The French Issue of Too Rude Magazine is a month full of blog posts dedicated to all things French, whether they are Parisian, Quebecois or African. This is the first article of the month.

"Nothing is known to be about style. This is the problem with fashion: trying to define and sell style. Style can't be bought or sold. Fashion can help with having a bit more style, but either it's there or it's not. It's not fair. That's the way it is" - Jean Touitou, A.P.C.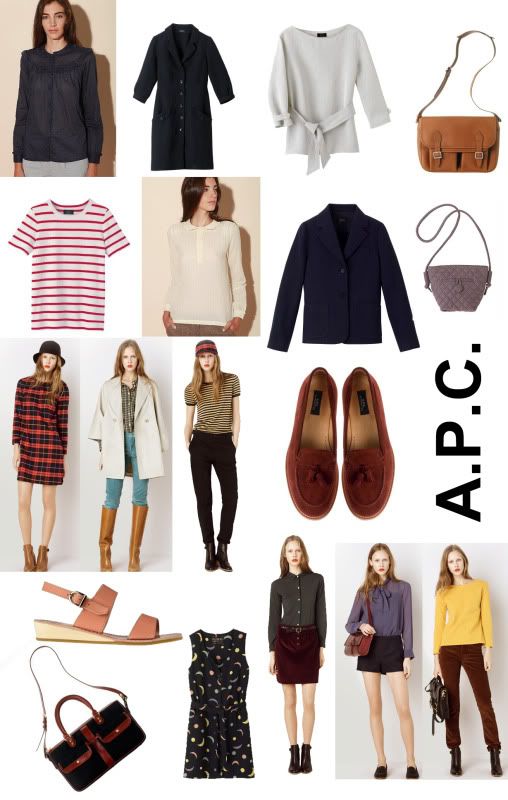 A.P.C. inspiration board created by me
Ever since I read the interview with Jean Touitou, creative director of A.P.C. or
Atelier de Production et de Creation
, in
Corduroy
, I became very intrigued by the simple Parisian street wear brand. Blending sometimes military with classical French style and effortlessness, A.P.C. is subtle yet informed, unassuming yet revealing in the design and textures used in the clothing.
Touitou is the driving force of A.P.C. with his strong opinions and no-bullshit attitude towards fashion and its unforgiving marketing strategies. He claims that A.P.C. is a "no sell-out line" and often he refuses to pay attention to ridiculous trends: "The trend now is clothing and accessories for Russian prostitutes. [So] I don't feel sorry to be out of it," he states in the Corduroy interview with Tim Chan.
Touitou exclaims that he hates the word "basic" - it doesn't even exist in the French dictionary and therefore should not be used to describe his clothes. "Basic" for A.P.C. means fake, complicated details completed by robots in factories. His ideal perfect white t-shirt flatters different types of sizes based on their cut and fabric quality above all else. Something so "simple" is actually a complicated process that requires endless tailoring and attention to detail. The brand is credited for using
selvedge denim
which is known to give a better cut to jeans without unraveling at the seams.
If you follow Paris fashion week bi-annually, you'll notice that A.P.C. doesn't have "half a million to just burn" on fashion shows. Touitou is a self-proclaimed hater of unprofessional model agents and "cheap power". "Life is too short to bother," he says about fashion shows. When asked what his favourite all-time purchase was, he outspokenly responded with "A donkey". He even claims that he would have been an architect in another life but never a writer; "a writer's life is miserable".
Often insightful, the character alone of Touitou makes me appreciate and understand the concept of A.P.C. Despite describing himself as uninspired, Jean Touitou still has a few things he needs to accomplish: "Read Philip Roth's latest remarkable novel and not hang myself". Fashion-related or not, A.P.C. is fashion-forward without really trying to be.