Image "curated" via Ron Wan's interactive website linked below, featuring my Jeffrey Campbell's
Corkin Gallery
is a Toronto-based gallery situated in the Distillery District. Last week was the opening of "Flirting with Bling" partially curated by Jyoti Minhas. It included the following artists:
Marepe, Ramón Serrano, Sharon Switzer, Frank Mädler, Lori Newdick, Grit Schwerdtfeger, Natalie Munk, Roxanne Lowit, Barbara Astman, Ian Baxter, Sarah Moon, Françoise Sullivan, Erwin Blumenfeld, George Platt Lynes, Edmund Kesting, and Irving Penn.
I know owner Jane Corkin hates when people comment on the space (it's supposed to be about "the art"), but what Corkin has done with the beautiful and historic building is nothing short of spectacular. The rustic undertones are balanced by a new, modern and clean touch in the gallery, making art-viewing a comfortable and spacious experience.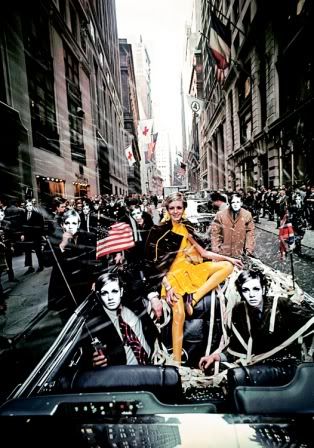 An impressive opening, good wine, great artists - particularly Melvin Sokolski's Twiggy works. For awesome coverage, check out Ron Wan's blog
here
. Actually, you will be impressed by this.