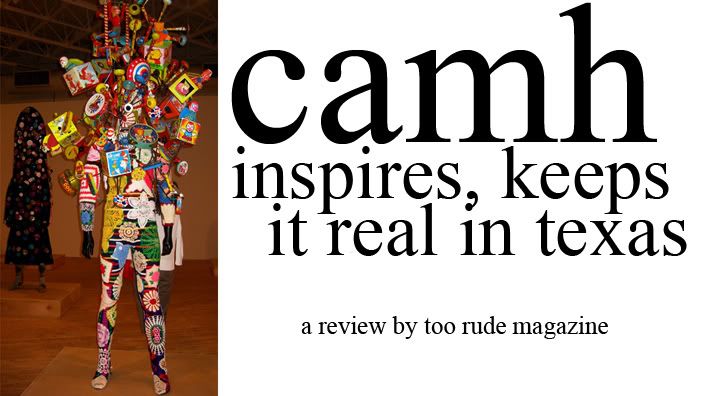 During my recent week-long stay in Houston, I had the opportunity to check out the multitude of art galleries, collections and museums that the city offers. It turns out that big-bottomed Houston is actually bustling when it comes to the arts. Some of the major sights include the
Menil Collection
– a collection of mainly surrealist and contemporary work where you'll see lots of Rothko and Warhol, and the
Station Museum for Contemporary Art
where I was blown away by Charif Benhelima's "Welcome to Belgium" photo exhibit about immigration and the darker side of Belgium's wealth, which (sadly) ended May 30.
When scouring Houston's art scene, you cannot forget about the the hearty, well-rounded and internationally flavoured
Museum of Fine Arts Houston
(MFAH) which showcases a fantastic variety of textiles, jewelry, sculptures, paintings and so much more from around the world. My favourites included Pre-Columbian, Native American Art, and African collections.
But there was one gallery that spoke to me, and that was the
Contemporary Arts Museum Houston
otherwise known as
CAMH
, which also stands for Centre for Addiction and Mental Health here in Toronto (I had to point that one out to ya'll).
From May 15 until July 25, 2010, CAMH will be hosting the HAND+MADE Program
which deals with the "performative impulse in art and craft" and the expansion of art and craft. On the day I visited, I was lucky enough to see the majority of artist's in house giving brief talks and answering a Q&A about their work, which was an enriching experience to say the least.
The intrigue of the exhibition primarily came to me for its focus on textiles. I was most impressed by Nick Cave's work (not the musician!) titled "Soundsuits". Not only are these suits prominent structures but they can also be worn by panache dancers, as noted in his
video
where the Soundsuits debut on the streets. Cave's work is absolutely stunning as statue forms, coming to life in their performances. He has sewn a range of materials into his suits such as metal toys, various textiles, human hair, beads, sequins, twigs, buttons, and various flea market discoveries, all for the sheer purpose of making noise while movement takes place.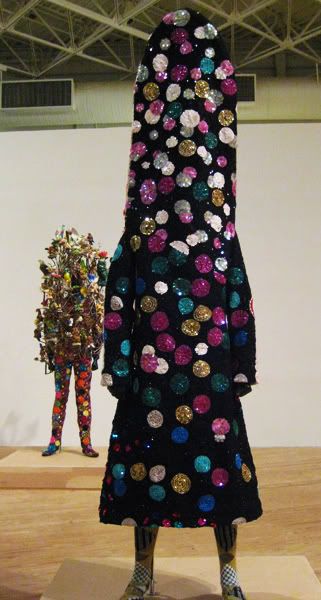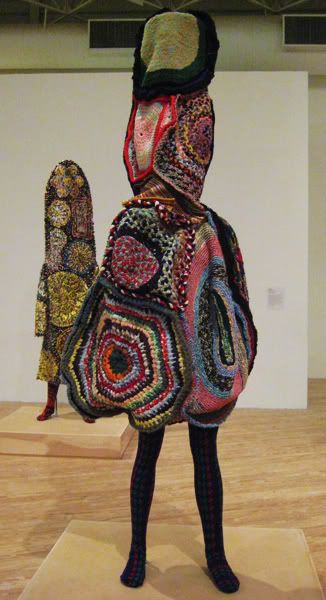 "When you're raised by a single mother with six brothers and lots of hand-me-downs, you have to figure out how to make those clothes your own," he says in a New York Times interview in 2009. A combination of thrift, dance, and a BA in fine arts led to a job at the School of the Institute of Chicago where he was graduate director of fashion. This is where he truly began embracing this type of work.
Performative or not, the sheer beauty and detail in his work is astounding; it is impossible
not
to stare at his costumes for hours upon hours, analyzing each detail.
Other notable artists include Sabrina Gschwandtner and her installation comparing the 12-frames-per-second labour of film to that of crocheting. She filmed herself crocheting just to make it even better. It was interesting but unfortunately her talk was loaded with cryptic Marxist terms that put the entire room to sleep. Much like Sabrina, many artists focused on the idea of arts and crafts as "labour and production" as performance.
I found the audacity of Michael Rea to be promising with his playable instruments crafted out of wood, and with immense detail. He provided a video of the instruments being played, but I stood there forever analyzing the depth and work put into each wooden instrument.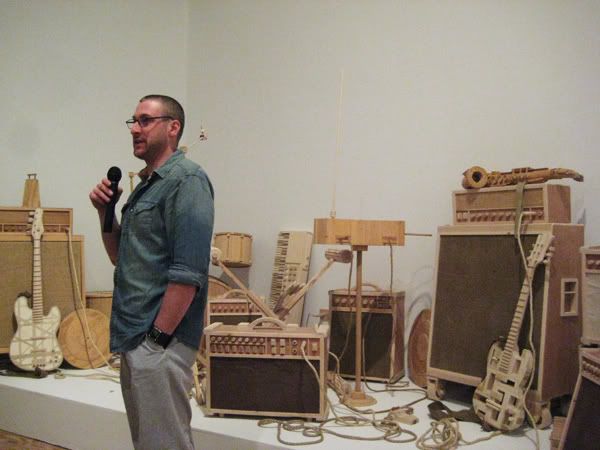 Christy Matson surprised me with her ability to transform textile into sounds with her "Sonic Structure" piece; the textile is given a breath of life when gallery goers touch the fabric and a sharp static sound is heard. The sound is also malleable based on how one interacts with the textile. Fashion's next top designers better get on this.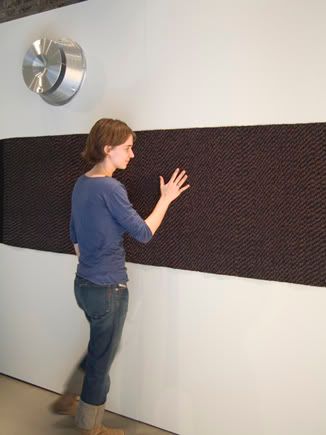 Sheila Pepe is another American artist whose Rodarte-esque threads overtook the CAMH gallery space. Her work was easy to interact with, although security guards would scare you off if you tried. A big hanging glob of thick threads from the ceiling never looked so appealing. The interesting thing about this exhibition was the use of textiles in several pieces, yet all pieces, aside from Nick Cave's Soundsuits, truly lacked wearability. It made for a fascinating exhibit; an elixir of all things I love about the fusing of art and fashion.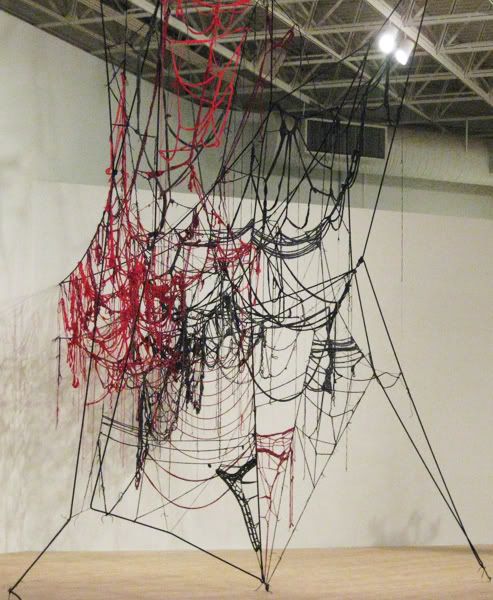 I highly recommend this entire exhibit for Texans and tourists, and maybe CAMH as a whole institution. Far from languid, it's an exhibit for anyone who has ever loved and appreciated the art of crafts. It's for anyone that has once been a child and has held a relationship – no matter how small – with the art of creating things.
All photos by me excluding the one of Christy Matson available at her website.