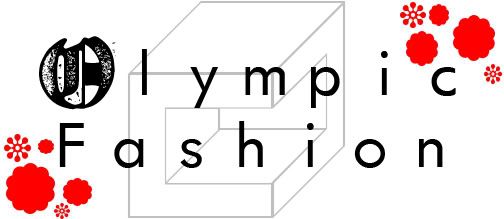 Surely Canada is in an Olympic frenzy these days. I've been watching the games day and night cheering for this country, hoping that we can pick up as many medals as possible and make new records worldwide. One thing I've been keen to is analyzing the outfits of many athletes competing this year. Surprise surprise. Although the games aren't a fashion show, there have been a lot of good and bad fashion moments thus far that need to be documented. The point is not to be an eyesore - plenty of which manifest within figure skating, but that's a whoooole other
blog
in itself. Ladies, gents and baby animals, I present to you the
Fashion Do's and Don'ts of Vancouver Olympics 2010
.
do: speed skating outfits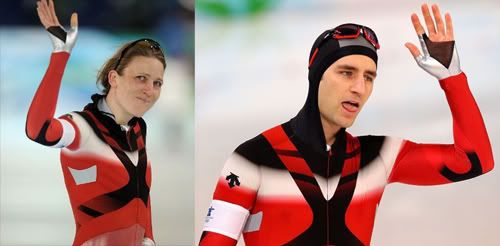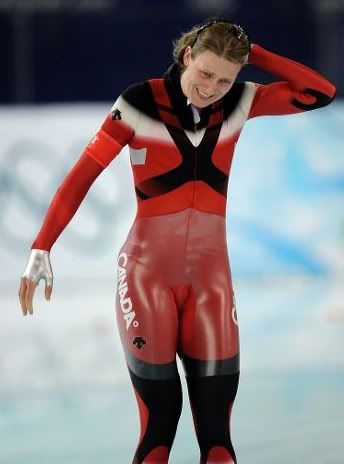 Kyle Parrot, Christine Nesitt and Kristina Groves


This is going to be hard to back up, but I love the Canadian speed skating outfit and I can't explain why. There's something about the gradient of black/white/grey/red that turns me on. I guess big thighs and camel toes could be turn on's for some people as well. The entire upper part of the outfit would be totally marketable as a cotton hoodie or sweater - at least I'd wear it on a casual day. I love cut outs and x-shapes across the chest, it screams BADASS!
do: cool skeleton helmets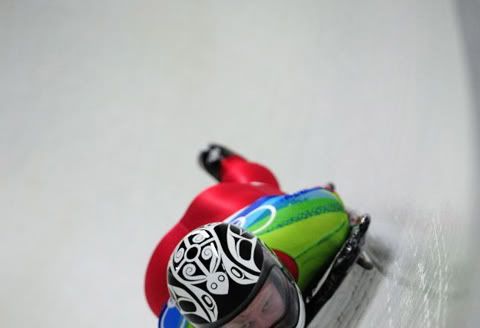 John Montgomery
What a rude boy helmet that is. Skeleton's are known for having very detailed and graphic helmets, and I like how this is graphically simple. It also pays a homage to some form of aboriginal turtle, which is fitting for Vancouver's overall theme.
do: modern & minimalistic floral print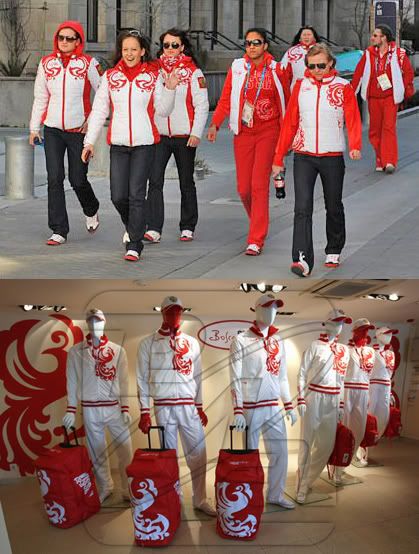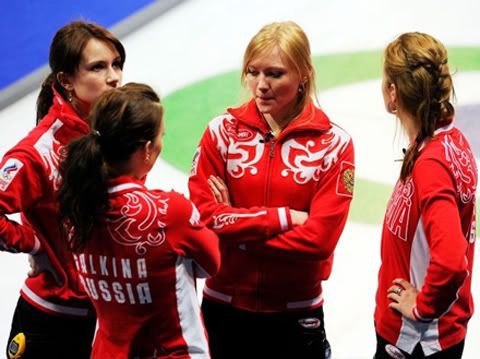 Russia's women's curling team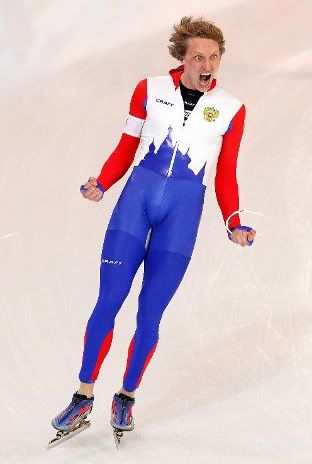 Ivan Skobrev, speed skating
Wowza, am I impressed by Russia's sweaters! As a huge sucker for khokhloma floral patterns and Russian imagery in general (see: Matryoshka dolls), I totally would introduce these ultra-modern sleek sweaters into my closet. As for the picture of Skobrev's bulge (among other things), I do love the graphic contrast with typical Russian architecture (St. Basil's cathedral? The Kremlin?). It flows very nicely.
do: tasteful blue & yellow combinations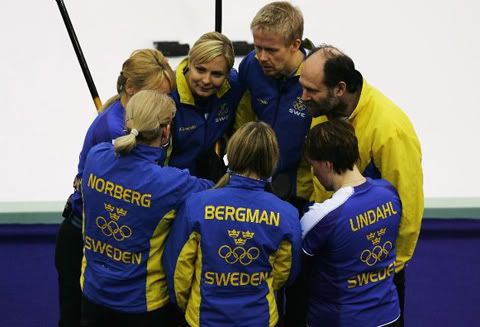 I guess I am biased but I dig these sweaters/any yellow-blue combination in general. I like how the Olympic logo is dealt with in an original way on the back of the sweater; it still stays true to Sweden with the iconic tre kronor.
do: military jackets on ice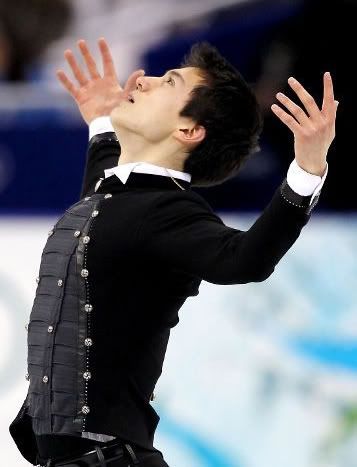 Patrick Chan was a competitor of Canada's men's figure skater who unfortunately didn't get a medal this time around but gave us a stellar performance. I just want to point out his slick military-style jacket that oddly reminds me of many jackets that have stomped down the runways.
do: elegance in figure skating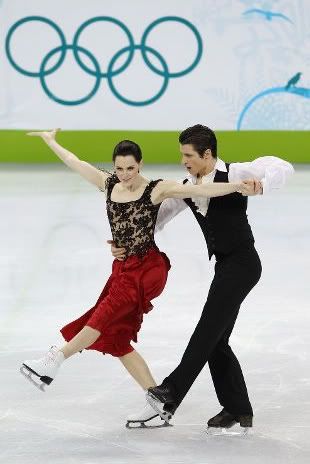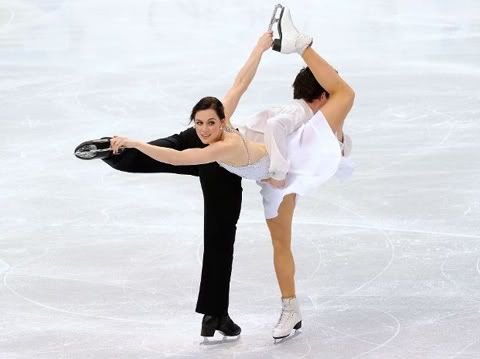 Tessa Virtue and Scott Moir were the most elegant couple on ice I've seen in a long time. Let's be honest, figure skating outfits can be very kitschy, literal and costumey. The outfits do have to stand out but that's no excuse; figure skaters gain points for elegance over cheesiness. Winning Canada's gold means that Russia did not win for once - not since 1960 has a non-Russian competitor won the gold in ice dancing. This also means that Virtue and Moir are the first to win gold in North America. Looking good and having mad skillz pays off?
don't: argyle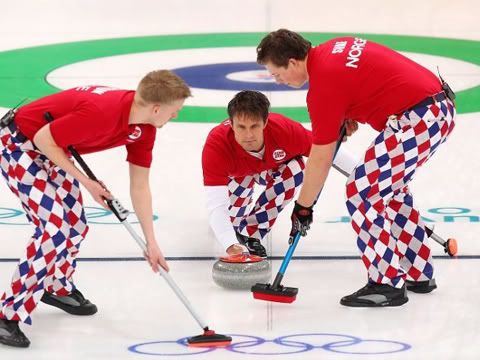 Yeahhh...not going to comment on this one. Way too obnoxious for one of the world's most boring sports. Sorry Norway, you were much better in women's ski cross.
don't: jeans and plaid in snow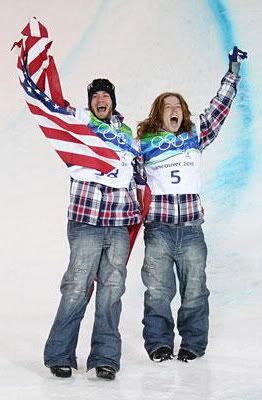 Shaun White, moguls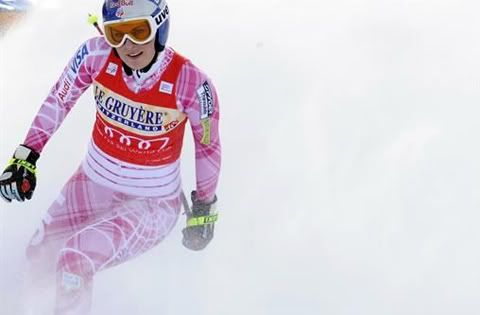 Lindsey Vonn, alpine
Yeah, I can't deal with how casual these outfits are. They're just so...American? Pink plaid with ads plastered all over it = not so innovative nor fresh. But JEANS?! Snowboarding/moguls in jeans, you have got to be kidding me. This isn't high school. I'm all for interesting patterns on jackets, but Shaun White barely looks like he's wearing a jacket. Just how casual and trendy can you go in the snow?
don't: everything about johnny weir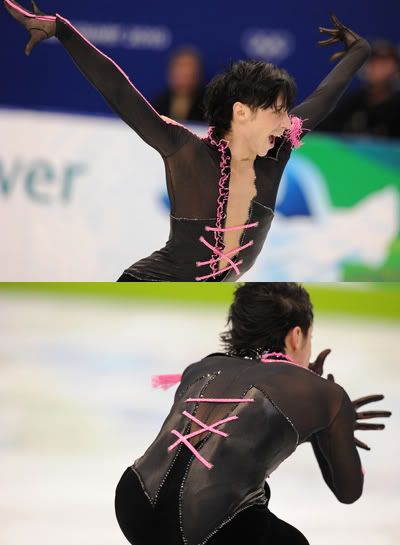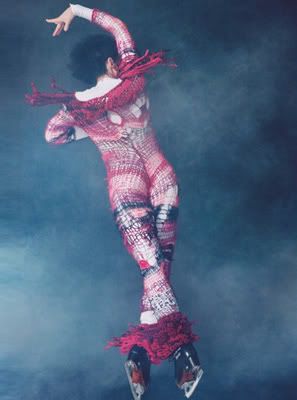 I definitely almost typed "Johnny Weird", American figure skater who is known for channeling "Lady Gaga" among other diva's. Although his skating was near flawless, I just couldn't jive with his outfits. That pink/black number honestly looks like it's from the discount rack at Hot Topic. It's too much, and lacks taste. Luckily for Johnny, Rodarte designed a knit skating suit for him. Although I have no interest in seeing his bare ass shining through the flawless threads of Rodarte, it's still pretty cool that they did this for all American athletes.


Overall, America: not impressed. Not only do you teef all of the medals due to your sheer size and economic value, but the style sense of your athletes is questionable.
undecided: black & gold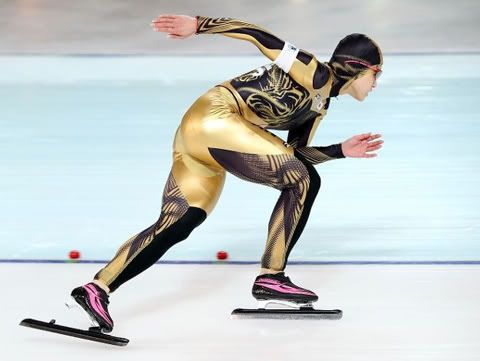 I'm the biggest fan of black, gold, and details, but I still feel undecided about Japan's speed skating outfit. It might have worked better if it was black with gold accents. Too flashy.