Well, I am really sad that Conan O'Brien has left NBC's late night line up. Conan has been there for me throughout high school and university, from a time where I had no friends to a time where I had all the friends in the world. I remember being online and watching Conan in high school, and then furiously typing "AHHAHAHAHAHAHAHAHAHHAHA" to a few of my friendly Conanites every time he said something hilarious (which was a lot).

Conan is my anti-depressant pill; everything he says and does makes me laugh (even when I am in the worst mood and am really tired), not to mention his lanky physique. Not only is Conan hilarious but he is handsome as hell. I think it's all those chic suits he wears. This world is such an injustice sometimes - I don't understand how stupid people like Jay Leno succeed and smart people like Conan have to leave an entire television network. I guess Conan is too good for NBC (except 30 Rock and the Office because they are brilliant).

In the last week of Conan's shows, I noticed how super-racy he was, just like he used to be at the 12:35am time slot. How amazing was it that Robin Williams gave the finger to NBC like 10 times on the third-last Conan show? I love the support for Conan. He is the only late-night TV show host worth watching in my opinion, whereas Jay Leno is like the Mike Bullard of America: UN-FUNNY. I love Conan and I will miss him. I wish him all the best and I hope he returns to late-night television again so I can giggle a lot. Oh, and the best Simpsons episodes of all time? Yeah, they were written by Conan.

Although I haven't seen every single episode ever (not even close), some of my favourite moments include the masturbating bear and the "desk rides". Fuck, would I give anything to go on a Conan desk ride. Also, I love the comparison between Conan and the Finnish PM (who is a woman) - they look very alike.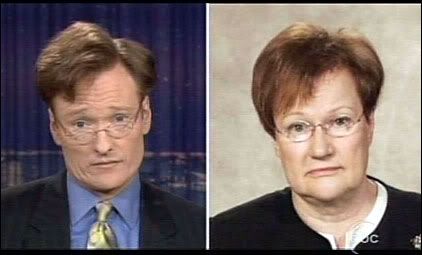 I came home early to watch Conan's last show and was super-sad when he started choking on his words. He didn't deserve any of this. The last lineup was stellar: Steve Carrell, Neil Young, Will Ferrell doing a musical performance with various artists such as Beck and ZZ Top, featuring
Conan on guitar
. Mad cool. I wish there were more funny interviews, but the music was satisfactory.
Who knows where he will be after this? Perhaps in my arms, Conan, perhaps you will be in my arms :'(