Last night I finally hit up the Starlight Burlesque Holiday Special Show at the Blue Moon at Queen/Broadview. The Starlight ladies consist of Esther De Ville, Virginia D'Vine, St. Stella and Emmanuelle La Gitane. The night included special guests Coco Framboise, Mina LaFleur, the Incredible Edible Akynos from New York City, fire-eater Dante Inferno, and vocalist Patte Rosebank. Let's not forget the FANTASTICAL George Lake Swing Band, a sixteen-piece jazz orchestra that made the night lively, adding that warm and special holiday jazz feel. Makes me wanna go out and see more live orchestras! A nice touch was added with little cute burlesque girls serving hor'dourves before the show.

From my understanding of burlesque shows, there tends to be a comedy routine in between performances. At the Blue Moon, we saw Parker and Seville busting jokes and boners throughout the night in an old-fashioned silly style with a modern twist. Esther De Ville opened up the show with sparkles and definitely got the crowd going. Emmanuele La Gitane was up next, a petite girl with a few delicious ounces of bellydancing in her. By this point in the show, it's clear that every humourous burlesque dance concludes with boob pasties being revealed. St. Stella worked it like a tiny dancer with mighty curves and a hint of Catholic innocence. Virginia D'Vine, award winning burlesque performer, rocked it on the off-stage swing with personality and persistence. Dante Inferno was up next who was a fire-eater in true American burlesque spirit. I lost my shit when he took his jacket off, only to reveal a gothic mesh shirt underneath to the sound of "Enjoy the Silence" by Depeche Mode. I was in true hysterics! Patte Rosebank serenaded us with "Merry Little Christmas" with its original lyrics from Meet Me In St. Louis (1944) that were definitely insensitive to the on-goings of World War II.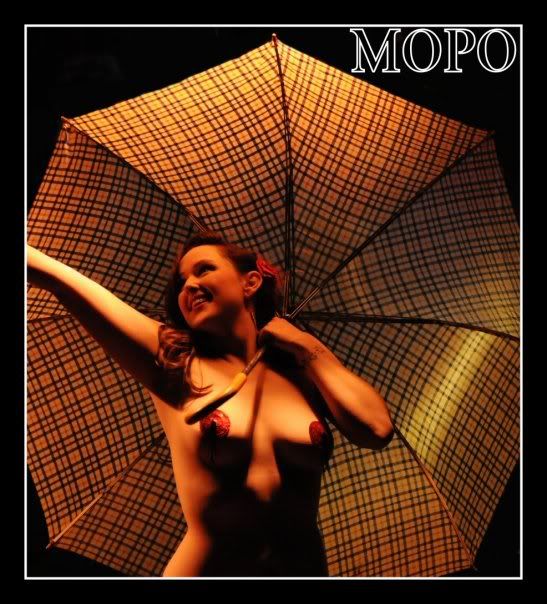 Esther De Ville working her pasties in the rain
Coco Framboise
dazzled the audience after intermission. I heard a lot of guys take deep breaths as they tried to hide their undeniable boners. Coco must have been the highlight of the show with her diva entrance and her fiiiine booty. Beyonce's got mad competition (and so do I). Mina LaFleur hit the stage shortly after with her ruffled undies as she enveloped herself in sensual and gigantic feather fans. Finally,
The Incredible Edible Akynos
ceased the night with her extremely parodied version of a shy and clumsy burlesque dancer, but as the rhythm of the orchestra moved faster, so did she, and her courage shined right through.
Note that burlesque is a form of comedy coupled with sometimes grotesque and over-the-top sexuality. The comedic factor to Burlesque is not to be misunderstood; parody, pastiche and character are central to the performance. The more the night went on, I couldn't help but think how special burlesque revival is to the City of Toronto. Burlesque is about embracing the diversity of women's bodies. Each girl had minor stretch marks, cellulite, and some flab on her. Each girl is a different weight and height. In a celebrity gossip tabloid, these would be seen as negative traits, but let's face it, most women have all of these things and guess what? It's actually normal, so there's no reason to hate.
The crowd was very cosmopolitan and open into doing something very different on a Friday night. If you're looking for a change in weekend entertainment, then check out the hurly-burly Starlight Burlesque and their guests for good times and a little 1940s class & elegance. Oh, and try not to take yourself too seriously. You'll have a blast.
Now, excuse me while I hunt down some feather boas before New Years Eve arrives.