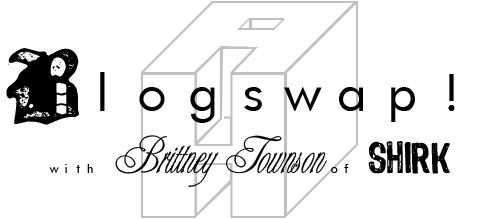 Ladies and gentlemen, I introduce you to Brittney Townson, blogger extraordinaire of
SHIRK magazine
. You can view
my interview and pictures at SHIRK here
to see
just exactly how
blog swaps work!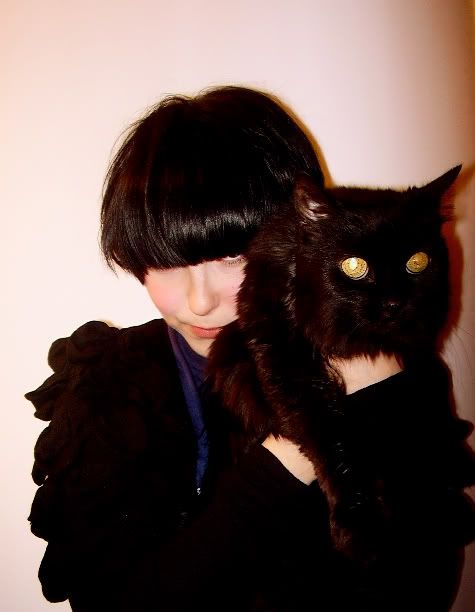 1) What's the deal with SHIRK? Tell me about your blog.
Shirk started as a side for a thesis project for design school. I was too lazy to design a full website. I printed out little rectangle "business cards" with SHIRK and the URL attached, gave it to all of my school friends, and sooner or later I started getting hundreds of hits daily. After school finished, I didn't touch it for the longest time...until I started posting again. Everything from fashion, music, news and other ridiculous shit that I found entertaining. It keeps me sane.
2) You moved from your old house recently. Tell us how the move went and where you moved.
I went from an old creaky house built in the 60's by the lake to a three year old townhouse in "down town" Mississauga. I plan on leaving as soon as possible.
3) Tell me about your closet in particular.
It's tiny, and a complete mess. My room is the size of a dive-bar bathroom, so I have all of my expensive clothes and dresses hung up. On the top shelf; little organization boxes with hats, purses and scarves. On the floor, boxes full of shoes, old photographs, ex-boyfriend love letters and other knick knacks. Thank you, Ikea.
4) What is your favourite place you've traveled to and why?
My heart will always belong to New York, but there's just something I can't seem to express verbally about Iceland. It has to be the most breathtaking place I've ever been and every day I dream about going back.
5) If you won the lottery right now, what would you do with the money?
Tour Europe. Period.
6) What item of clothing are you dreaming about owning these days?
I am looking for a nice new pair of fancy shorts; I love the patterned nylons with shorts combination. I would also fancy something black with huge, dramatic shoulder pieces. I would like to say something Lady Gaga'esque without actually having to mention the words Lady and Gaga at all.
7) What food could you absolutely not live without?
Sushi, is that too typical? I could honestly eat it every day.
8) What inspires SHIRK? What motivates you to write and design for SHIRK?
Everything. Art, fashion, music, design, ridiculousness, gossip, bullshit, awesomeness. I just put all of myself into Shirk without making it too personal.
9) Favourite designer (fashion, industrial, or graphic) and why?
Fashion --> Anna Sui, Marc Jacobs, McQueen, Galliano, and Biba.
Graphic --> Saul Bass and everyone to do with the Constructivism movement in the 30's and 40's. Gary Baseman, Friendswithyou and pretty much any other designer featured at Magic Pony.
10) What's so great about Toronto, anyways?
The thing that's great, but it's also it's hugest downfall, is how everyone seems to know everyone else in this city. Also, everyone's creative in some sort of way. It just wants more more more. I hope it keeps up.