Elisabeth Rolskov of ER-Couture is a Danish-born expat living and designing in Vietnam. She has started up shop in Ho Chi Minh City with her brand as an ecological designer and is adding her own personal brand of conscious, class and creativity to the basic yet emerging Vietnamese fashion scene. Here's what she has to say about being an expat-designer in Vietnam.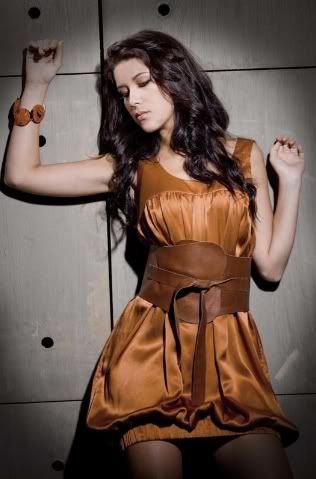 Tell me about ER-couture and how it got started. Why are you designing in Ho Chi Minh City, Vietnam at the moment?
I have always dreamed about having my own fashion company. This was what I wanted ever since I was a little girl, drawing garments for my paper dolls. I set up my boutique ER-Couture 6 month ago because I accommodate an area in Vietnam where there are little suppliers right now. This is the market in between unknown retailers and high fashion stores like international fashion brands. There are hardly any suppliers in the middle where you can buy affordable high-quality clothing.
You are originally from Denmark. Would you say that your designs and concepts are influenced by where you're from?
I am indeed influenced by my Danish background but on the other hand I have been living overseas for many years, which is reflective of my designs. After living in Hong Kong, China and Vietnam, I have often found myself in a melting pot of different cultures. I appreciate diversity, and the exposure to varied ethnicities has inspired me to integrate the Asian and Scandinavian design style. My brand ER-couture represents a cultural fusion – distinctive for its unique combination of Western silhouettes & tailoring with Asian details & ornaments.
Can you explain the significance of using natural fabrics in your designs? Would you be considered an eco-friendly designer?
At ER-Couture, we continuously do our utmost to make things last and we never compromise on quality. We select only natural materials for our collections such as silk, wool, cotton, linen and leather. Quality and comfort are keywords at ER-Couture and we never let our customers wear synthetic fabrics!
We care about our customer and in order to reduce chemicals that fabrics often carry, and minimize excess color and shrinkage, we take the effort to wash all fabrics before production. Our philosophy is always to make the most out of our resources and we carefully consider suitable fabrics, designs and cutting methods in order to minimize waste. We also encourage people to do Demi-couture or Made-to-order as we see this as a way of encouraging quality and "slow fashion" over mass-produced disposable fashion. ER-Couture can be custom-made for the same price – which is an offer we provide as it gives us the possibility of greater customer satisfaction and a chance to make our production more environmentally friendly. This is high-end fashion after all, and the design will lose its soul if it's being mass-produced.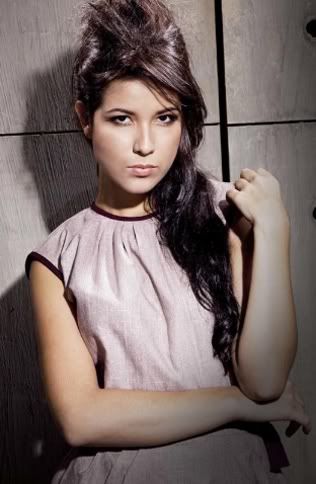 Transmissions Photo shoot

Where do you find your main organic materials? What is the manufacturing process of your work?
Not all our material is certificated organic – we can't get organic materials in Vietnam and we must therefore import organic materials (you can consider how eco-friendly they actually are after the transportation). We do import some bamboo fabrics from China, which is an organic fiber that we have been very happy to work with.
We mainly use a small sewing team that work for ER-Couture and other smaller shops. In our boutique, we have an excellent tailor who helps us produce samples and custom made garments. This gives us the chance to make perfect samples for the sewing team to follow.
What is the fashion "scene" like at the moment?
I see a market very interested in fashion. Look at the attention towards Fashion TV. The interest for international fashion magazines is also growing and Sunflower Media now has the license to publish "Her World" in Vietnam. Some of the local designers are also very interesting and are especially making beautiful garments with hand-embroidery.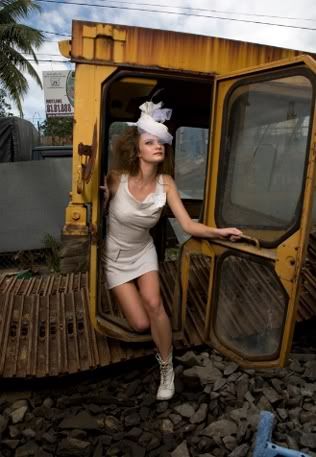 Tell me about your latest collection as well as the expansion of ER-couture in Ho Chi Minh City.
Every season I choose a new inspirational source. This season our Fall/Winter 2010 collection is designed with references to Film Noir's femme fatale and 1940's exquisite elegance. The 1940's chic, sharp and sophisticated elegance with reference to Hitchcock's female heroines is the theme ER-Couture is embracing which is visible in our feminine, artful drapes and constructed silhouettes. We focus on a feminine figure with exaggeration of waist, hip and shoulders. The overall lady-like look has a slight rock-chic twist visualizing our female heroines aesthetic with use of raw, metal rivets, dramatic zippers and leather.
Following ER-Couture's very successful first six months, we found the need to expand our Ho Chi Minh City boutique. On this occasion we have added an outstanding selection of designer accessories such as jewely, leather bags, belts and shoes. We are also introducing our new fashion line, ER, which follows the same principles of high-quality products as ER-Couture, yet it prioritizes simple design for stylish every-day wear.
I know how crazy and hectic it can often be living in Ho Chi Minh City. How do you clear your head and gain your creativity?
I manage to travel a lot. I go back to Denmark at minimum two times a year and I travel to Hong Kong occasionally.
Where do you see fashion heading in Vietnam in the next 5-10 years or more?
There is still a long way to go if we compare with Singapore and Hong Kong and I think the retail stores are still quite limited. With the huge interest in fashion I think Vietnamese retails have a good change for growth. We are indeed heading towards a more fashion-forward future!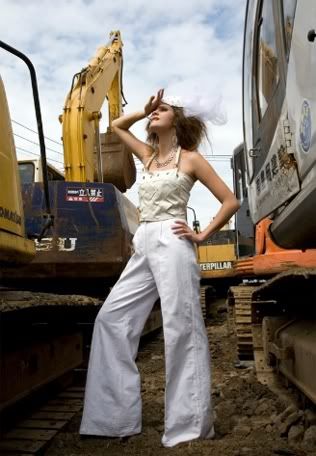 Construction photos from a photo shoot with The Word magazine.