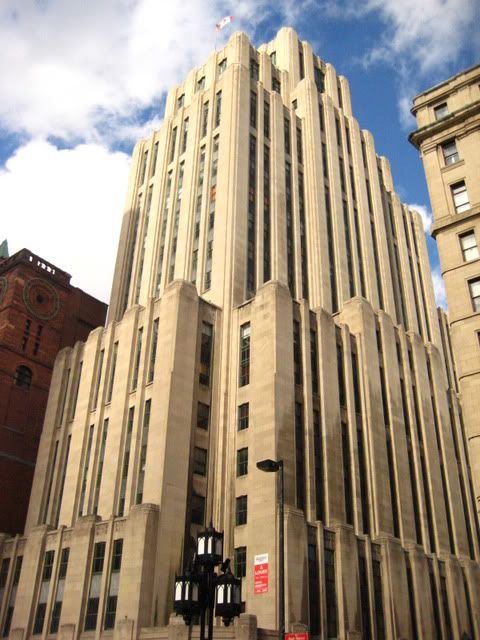 Too Rude Magazine's guide to Montreal
Last weekend, my partner in crime, Jamie, and I, drove to Montreal for the long weekend. Despite the ass-awful parking, the peculiar automobile drivers, and the freezing cold, we had a pretty awesome time. I ate tons of food, stared at tons of sweet bikes, and jaunted through neighbourhoods aplenty. Here is my short and sweet guide to visiting Montreal for 3 days.
EatUne Crepe
(on Mont Royal just west of Mont Royal metro)
Une Crepe's decor was trés classy, spacious and cozy. I purchased a cone-shaped Nutella crepe which was delicious, but very filling after the first crepe I ate an hour beforehand. What can I say? I love crepes.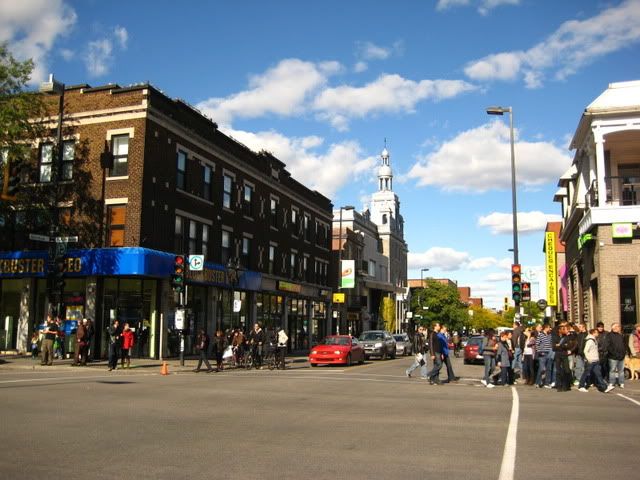 Rue Mont Royal

Le Flambard
(851 Rue Rachel E, corner of St. Christophe)
Le Flambard is a choice-heavy, super-tiny prix-fixe restaurant with minimal decor serving excellent traditional food from Lyon. I stuffed myself to death here with a killer four-course meal. I enjoyed a tomato, garlic and duck fat soup; a spinach, goat cheese and mushroom puff pastry; scallops in garlic and cream sauce, and a crème brulee made out of perfection. The whole meal was a bit pricey ($34, cheaper options available) but decent for a nice and intimate night out. BYOW – bring your own wine because the place does not serve alcohol.
La Banquise, 994 rue Rachel Est
(at Ave de la Parc LaFontaine; metro Mont-Royal)
You cannot go wrong with a 24-hour
poutine machine
with over twenty-five varieties of poutine as well as sandwiches, burgers, hot dogs and petit dejeuner options. Once operating as a mom-and-pop dairy/hotdog/hamburger joint in 1968, the place has moved on to being the post-night-out-hot spot for stuffing oneself to death. I tried the veggie poutine even though I was really curious about the smoked meat poutine. Check out the menu
here
!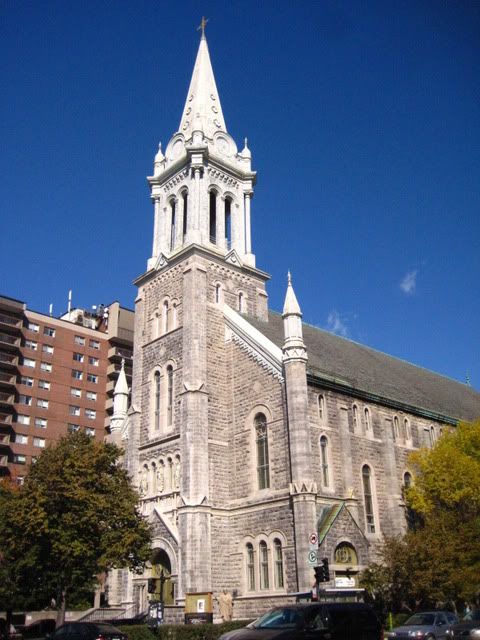 Cathedral on Rue Rachel
Croissant de Lune on Saint-Denis (just south of Ontario)
I first discovered Croissant de Lune when I was 16. They serve amazing crepes with plenty of options. I remember eating strawberry crepes with chocolate sauce. I didn't get a chance to come here this past weekend but I totally recommend it. Still.
Going out
Montreal has this reputation of being a party city, especially compared to Toronto, where a usual night out is stiff and judgmental. We didn't go out excessively, probably because we were too tired from walking around all day. Our big night out occurred on Crescent street. Now, I'm not sure what kind of reputation Crescent street has with Montreal crowds; is it comparable to Richmond street in Toronto? Jamie is a big fan of Irish pubs and we couldn't get more authentic than
Hurley's
at 1225 rue Crescent (southern part of Crescent). Not only did they pour an amazing pint of Guinness but they sold us with their rustic decor, Celtic wood carving, and artful rooms. Pretty versatile for an Irish pub with friendly staff and some cover bands. St. Laurent is another busy street worth checking out for shopping and going out, but alas, no time.
SightsBasilica de Notre-Dame:
Probably the most stunning building in Canada with a ridiculously detailed Catholic interior. For a five dollar entry fee and a location in the middle of Old Montreal, you have to see it at least once.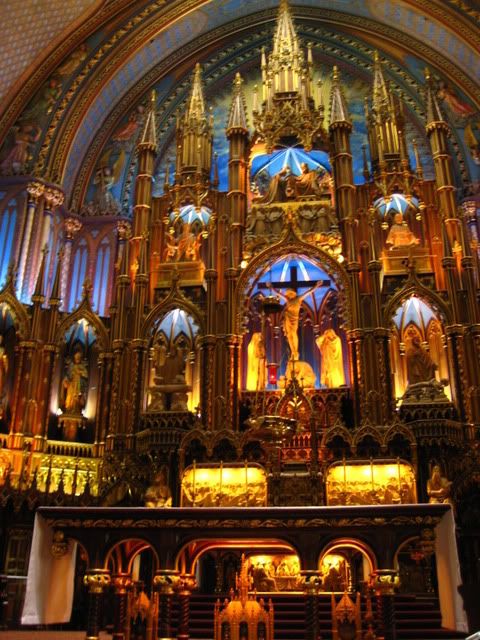 Museum of Contemporary Art:
Located at 185, Sainte-Catherine Ouest, the MOCA is a small but fulfilling collection of contemporary art with high hopes to please everyone walking through its doors. Current exhibitions include Tricia Middleton, Francine Savard and Tacita Dean, with Middleton being my favourite for her sensory experience of a contemporary version of Plato's cave. She stunned me with her textile details in the ceiling and wall work.
McCord Museum of History:
690 Sherbrooke Street West. An impressive and interactive museum focusing on the history of Montreal. Current exhibition includes "Being Irish in Quebec" which remembers the Irish immigration from the late 1800s and looks at current Irish neighbourhoods in Montreal. Totally worth the visit if, you know, you're into Canadian history.

Old Montreal
Botanical Gardens:
4101 Rue Sherbrooke Est. Don't expect to walk here from the McCord Museum because it's quite far east. Situated by the retro Olympic stadium, the Botanical Gardens are currently hosting a traditional Chinese garden/lantern exhibit outdoors which glows beautifully at night. The best part is that the Gardens use TFT LED Contactless systems which substantially reduce energy consumption.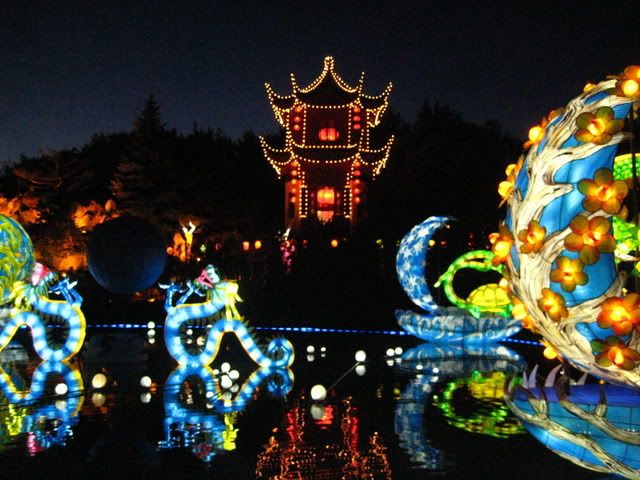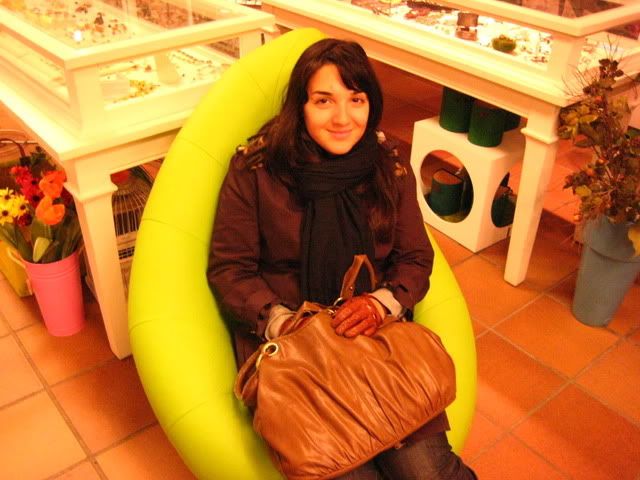 Et moi! Dans l'Insectorium