PINK RIBBONS, INC.
Ever wonder what happens to the millions of dollars we donate to "breast cancer research"? PINK RIBBONS, INC. reveals the downside of pink-washing and how it is harming instead of helping the cause, reducing breast cancer into some sort of outsider/terrorist that we can beat. Women diagnosed with breast cancer from all stages tell distressing, heart-breaking stories about their diagnoses going unnoticed until the fourth, final and deadliest stage of the disease. We see clips of breast cancer rallies, parties, pink-lit buildings and huge fundraisers that shut down cities contrasted with very realistic, intelligent and critical reviews of such girly celebrations. And for what cure? Researchers do not even know what the cause is of breast cancer (it is different for each woman). Therefore, finding a cure is impossible.


The most hilarious breast cancer research endorsement came from Kentucky Fried Chicken. I was shocked to see Avon as a major US sponsor, too, considering that many of their products contain ingredients likely to cause cancer. It is shocking to see how many millions of dollars people raise and how many products are emblazoned with pink ribbons, yet such a small percentage goes to researching cancer prevention and environmental factors. Don't you just love to point out when corporations contradict themselves? This film wins points for being one of the most relevant documentaries of the year.
WUTHERING HEIGHTS
I have never read Emily Brontë's "Wuthering Heights" but I have seen Andrea Arnold's films (
Fish Tank
,
Red Road
) and I was super excited about her latest movie,
WUTHERING HEIGHTS
. Set in the nineteenth century moors of Yorkshire, a biracial boy named Heathcliff is curiously embraced by Catherine, a young girl who intimately tries to adopt him as a friend. Set within the dark English countryside, the film has some clumsy and comedic break-thoughs, though I didn't twitch once during the screening.
Years later, a teenage Catherine (played by Kaya Scodelario from
Skins
!) marries her neighbour Edgar with hesitation. Did I mention that she's stunning? The film goes from ratty to elegant to straight up EMO here. Themes of youth, nature and female desire are courageously used, almost uncomfortably, to create a picture of perpetual longing between Heathcliff and Catherine, who loved each other all along. Peace out, Edgar. My only beef with WUTHERING HEIGHTS was that it felt pretentious, and that I was disturbed by the number of dead animal close-ups in the film. The cinematic experience was breathtaking, the texture and sound was rich, and the quality was gripping.
A FUNNY MAN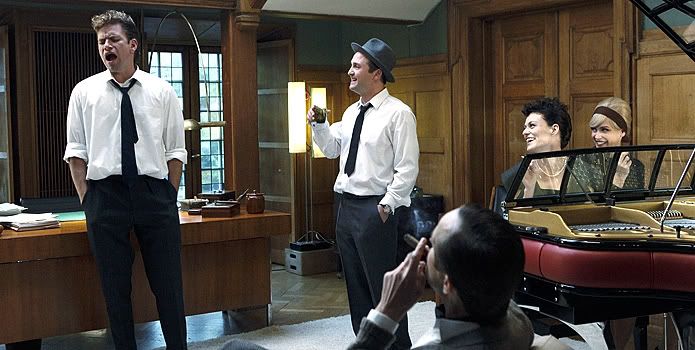 I started at this festival with a Swedish film and ended with a Danish one. How typical. My final film of TIFF was seen at 9:30am at the Isabel Bader theatre in Yorkville. Nearby parking costs and arm and a leg, but it was worth every penny to see
A FUNNY MAN
, which follows the life of Danish comedian Dirch Passer and all of the doubts he carried throughout his career in the 1950s. After his stage partner, Kjeld, becomes jealous of his rising career, Dirch's life begins to plummet. He tries to branch out into other forms of comedy, overworking himself into failure. In typical Danish fashion, we are exposed to dysfunctional families, alcoholism, death and renewal all in two hours injected with black humour. You don't need to know who Dirch Passer is to care about this movie. Simply recognize its greatness and move on. The acting is beyond excellent and the film is produced exceedingly well. What a great, rewarding way to end off the festival.
P.S. I loved those Cadillac commercials; "from zero to drama in 0.39 seconds". The typefaces were impeccable.
Thanks for a great year, TIFF! See
part one
of my TIFF reviews.