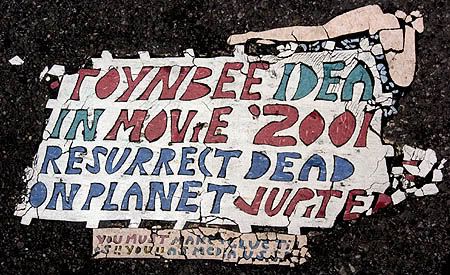 I had been absent from the internet since scoring a contract box office position with
Hot Docs International Documentary Festival
in Toronto. From April 28 to May 8, I busted out as much customer service as possible working 11-hour days with lovely co-workers and docu-fying myself with 48 documentaries viewings in total. I repeated myself too often, answering the same questions multiple times a day. But I dealt with it, because the stipend and the unlimited documentaries and the unlimited access to all sorts of great people made everything kinda worth it.
I tweeted less, I communicated more. Handsome dogs visited the box office in Yorkville on a weekly basis. William Shatner's publicist called us, and we loved it so much we decided to make t-shirts. We ate too much vegan food from
Fresh
during the festival. On our last day, we celebrated with a stomach-destroying "McDonalds Party" consisting of large bowls filled with nuggets and fries. We said our hellos to POM Cocktails and our goodbyes to each other. We met
this guy
who appreciates grandmas so much. We almost published a list of "people you will find at Hot Docs", some of which include intellects, Russians, hoards of seniors, confused students, sub-types of industry, and then some.
With all that said and done, the films at this year's festival keep my passion going. Here is a list of my
top six films
at Hot Docs this year. They are the ones to watch for cinematic wide releases.
Position Among the Stars
Resurrect Dead: The Mystery of the Toynbee Tiles
If a Tree Falls: The Story of Earth Liberation Front
Family Portrait in Black and White
Project Nim
The Interrupters