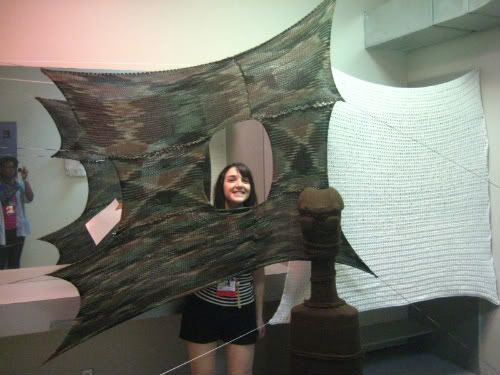 In the final week of April, I volunteered for Alternative Fashion Week here in Toronto's Liberty Village. It was one of the most eye-opening experiences of my life solely for the outrageous performances, art installations, tasteful clothing and the talented designers that are not well known outside of this country (unfortunately). The event truly reminded me that fashion can be very performative and doesn't necessarily need to be business-friendly and accepted by all. Sometimes creativity is enough to bring audience attention to the clothing, and that is what FAT (Fashion. Art. Toronto) is essentially all about. It is a time to go crazy on our makeshift runway and make it the best it can be. One of the most defining moments of FAT had to be the models. They came in all shapes and sizes, with stretch marks and cellulite but still managed to embody fierceness. And that's why Alternative Fashion Week will always work over the traditional week's in Milan, NYC and Paris. I enjoyed seeing the diversity of women's sizes. It truly made the clothes look more interesting and have more personality.
Although my memory is rusting as I type this, I figured I'd post some of my favourite pictures without writing a proper review this time because I am busy like that ;)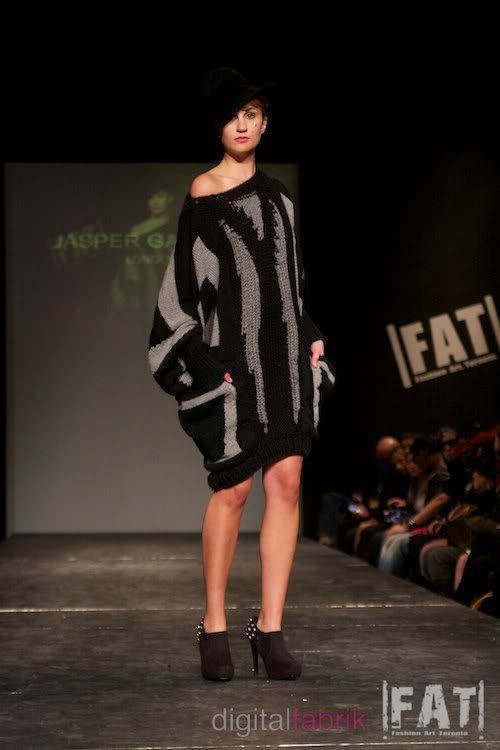 One of the many instances where Jasper Garvida blew my fucking mind with a clean, polished art-deco inspired collection. One of the most mature collections of the entire week.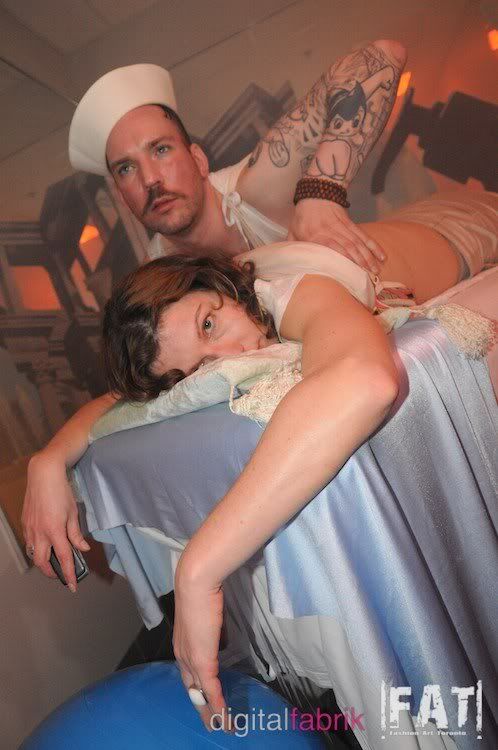 FAT hosted many art installations. This one room, The Pump Room, imitated a relaxation room from the Roman times. That is Justus and he gave me a massage (Note: that ain't me in the picture in case you are wondering). Nothing beats getting a massage from a gay man in a sailor costume.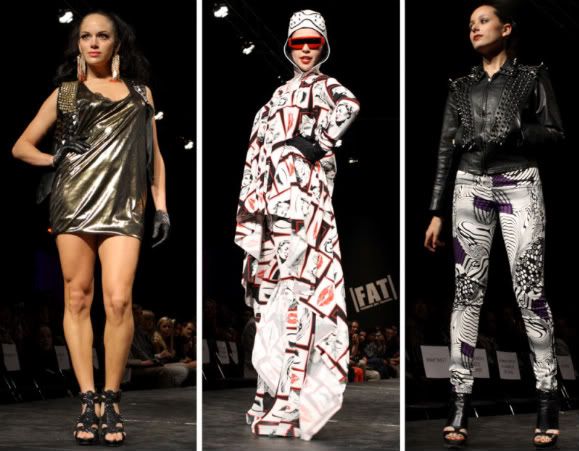 The much anticipated Evan Biddell line entitled "Refined". Isis from Thunderheist made an appearance on the runway and it was a total circus treat. Biddell wasn't the only one to have a masquerade on stage. Many designers went apeshit with the runway in innovative and unexpected ways hosting theatre to opera to dance, and so much more.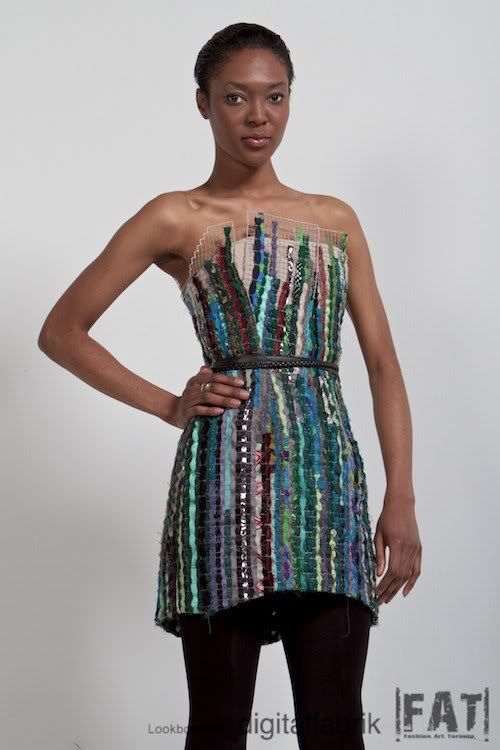 Romandin's collection was a stand out. This is my favourite piece. I would wear it everywhere.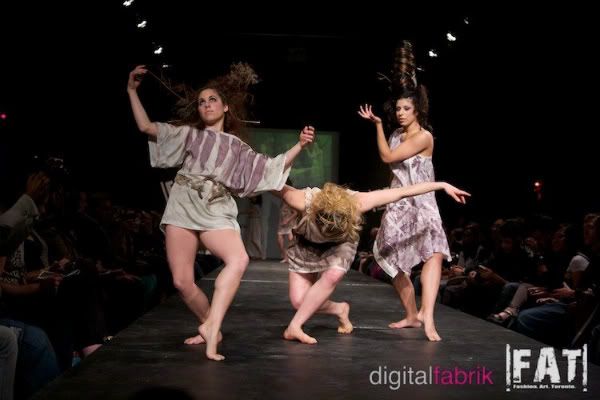 I was mostly impressed with the Sheridan Textile Program's show. It was a very disjointed yet flowing runway performance to the sounds of Sigur Ros. The collection was airy and evoked a sense of nature; hair was woven with pieces of twigs and flowers. The whole thing reminded me of a calm tornado. I felt really inspired by these young ladies and now I want to dip my fingers in some screen printing ink.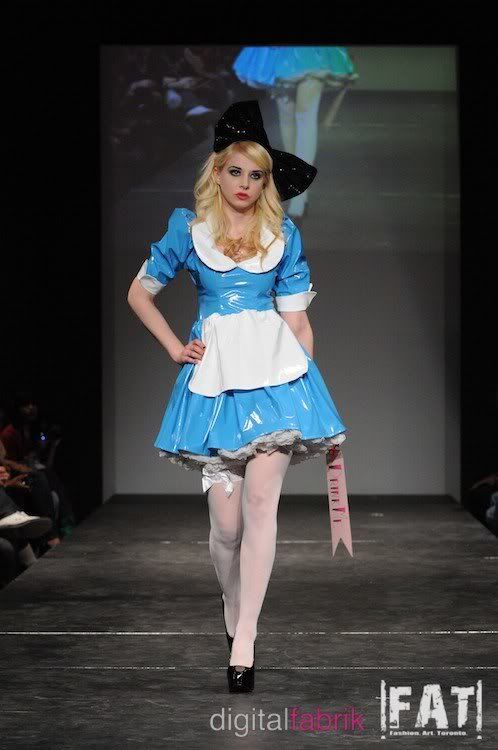 I was confused by Pippa's collection at first but once Alice came out, and we saw the Snow Queen and the twins, I knew that the latex-and-vinyl collection was paying a homage to Alice in Wonderland. Truly a great runway performance!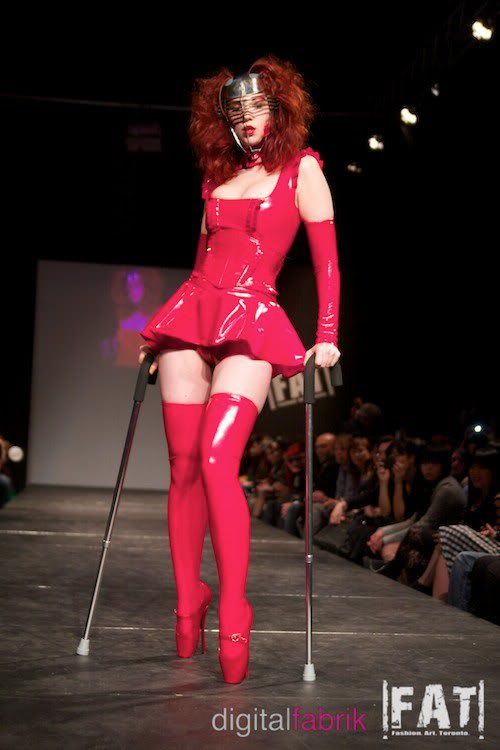 Last but never least, the show by Artifice blew my mind. I couldn't stop talking about it for days afterward. Another neon vinyl collection, but with serious Blade Runner undertones and a whole lot of unbelievable creepiness. Observe...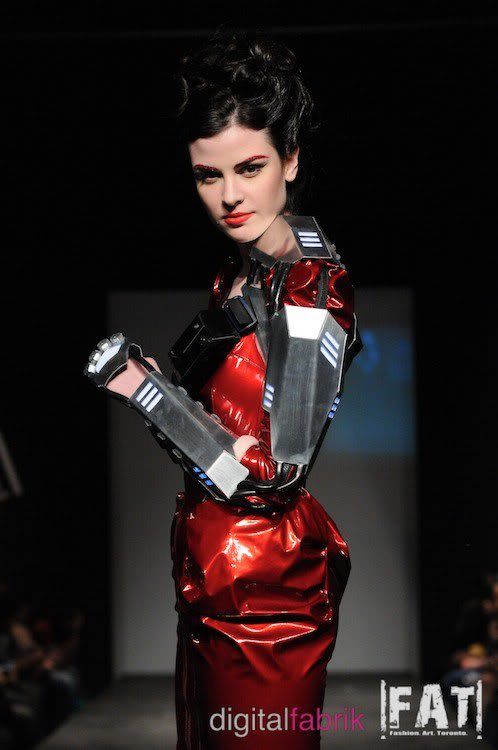 How Transformers is this!?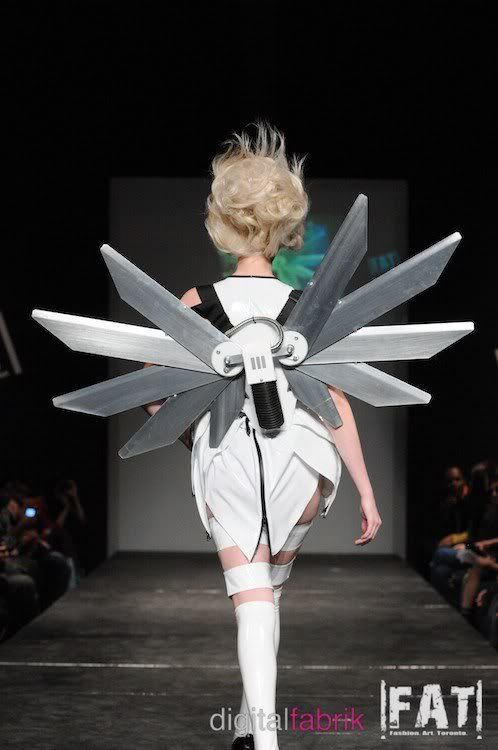 The model pressed a button and these wings suddenly grew out of her back. I was in absolute shock and awe. It's what I love about fashion, what can I say? I may plan to get this on my wedding dress one day.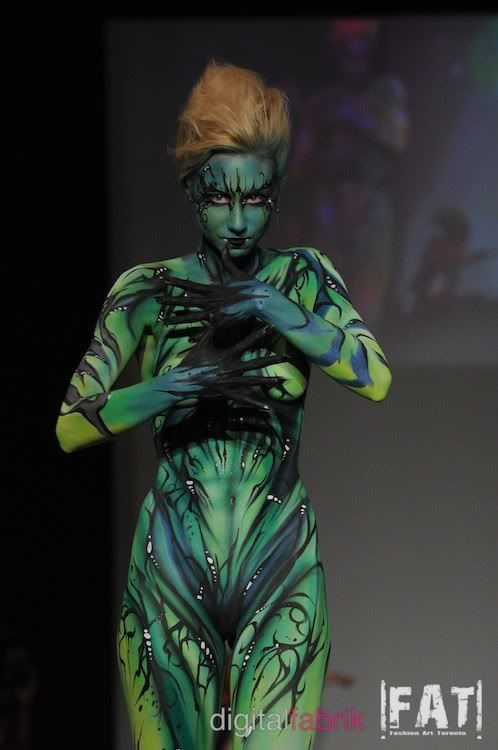 Body painted Avatar ladies. Seductive serpents. Severe body paint. Raw talent. Loved it.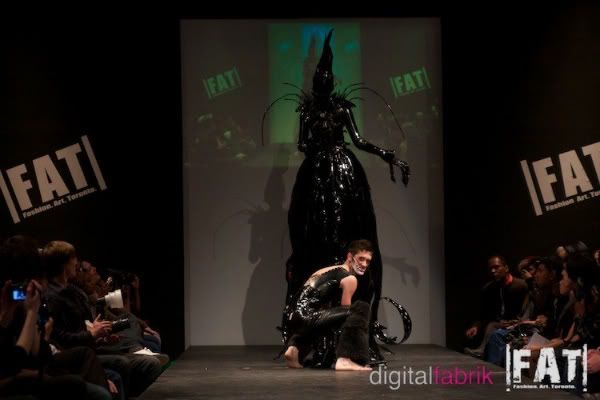 Mother Alien emerged at the end of the show. The alien costume must have been over 8 feet tall and it haunted the runway in slow steps. There was a person underneath the dreadful costume while its slave man slithered around it as the monster made its rounds. It was a breathtaking ending in the most horrifying way. No skyscraper of a being has ever intimidated me, terrified me, in such a way.