The Dø (pronounced doe) is a fresh-as-fuck duo from France slash Finland. After their Toronto debut last night at Wrongbar, all I have to say is that The Dø is the total opposite of a music-døn't.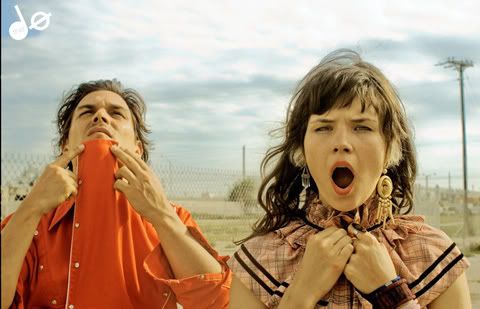 The Dø brought their oddball energy from Europe to Toronto almost in a way to prove the crowd wrong. They were almost too good for the crowd on this soggy Wednesday night. But they brought an element of life to us which tends not to happen on Wednesdays. Olivia Merilahti's little shindigs never failed to impress us, not to mention the weird, black, strappy, avant-garde ensemble she was wearing that night (P.S. I want it. Where did you get it, Olivia?). Not to mention the completely Istegade-influenced metallic red tights and the multicoloured Reeboks that accompanied it.
Olivia's shrill vocals mixed with the heavy bass, percussions and jaunty keyboards of Frenchman Dan Levy makes for a unique, jazz-infused sound. Sometimes subtle, and sometimes insane, their music is a whirlwind of emotion and tonal changes which made for an exciting mini-rollercoaster of a set, reminiscent of a spring day with a 99% chance of thunderclouds. The song "A-Ha" showed us another side of the band with a sound inspired by Karen O of the Yeah Yeah Yeahs (whose outfits I wouldn't mind pouncing, either.).
If you're looking for a new album to listen to that is super-fun, super-weird, and super-stylish in its own way, then take the Dø by the hand and run into a sunny field for a chance. You might be pleasantly surprised.