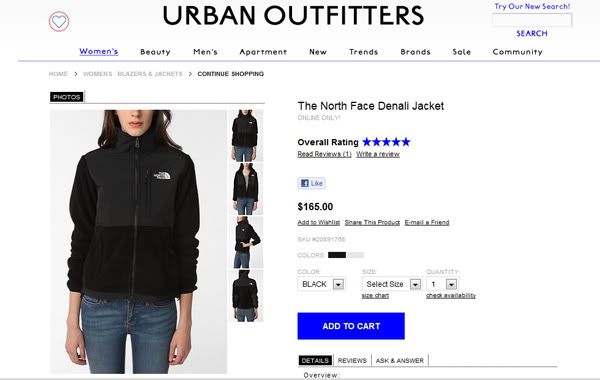 Okay, I'm not sure why this is happening. Is it because of the parade of Canada Goose jackets that are suddenly hip? (Those are sooo three years ago in Europe! Get with it!). Urban Outfitters is now selling
North Face
jackets. Known for their utilitarian outdoor sportswear, the North Face is the antithesis of a floral-wearing fedora-sporting individual who prances into Urban Outfitters. Now hipsters can simply
look
like athletes, hikers, and pro-campers in these fleece sweaters! Seems a bit too practical for the young and fashionable, no?
If I ever need a North Face fleece sweater, I'll be sure to buy it from a real-ass sports & camping store, not Urban Outfitters of all places. What's next - scuba diving equipment?
BROOKS runners
?
As cool as travel, outdoor exploration, and athletics are, they'll never
look
cool or trendy, and that's totally okay. Taken from The North Face's website:
"We remain deeply proud to be the first choice of the world's most accomplished climbers, mountaineers, extreme skiers, snowboarders, endurance runners, and explorers."
Wow, Urban Outfitters, you
really
got your target market right on this one!